Santa Barbara is one of the most glamorous towns in California, with gorgeous Spanish-style architecture and a spectacular palm-lined waterfront, all backed by mountains that glow pink in the late afternoon light. In 1925, a major earthquake destroyed much of the city, and it was rebuilt in Spanish Colonial Revival style, resulting in the graceful architecture you see today.
Many of Santa Barbara's top tourist attractions lie within close proximity of each other, making it an easy city to explore, and you'll find plenty of kid-friendly adventures. Other popular things to do include exploring magnificent Mission Santa Barbara and the city's excellent museums, coming face-to-face with wild animals at the zoo, shopping in the palm-lined malls along State Street, watching humpback whales leap from the ocean, and exploring some of the scenic hiking trails. The city also hosts a busy line-up of festivals throughout the year. Favorites include Old Spanish Days (Fiesta) in August and the Summer Solstice Parade in June.
1 Mission Santa Barbara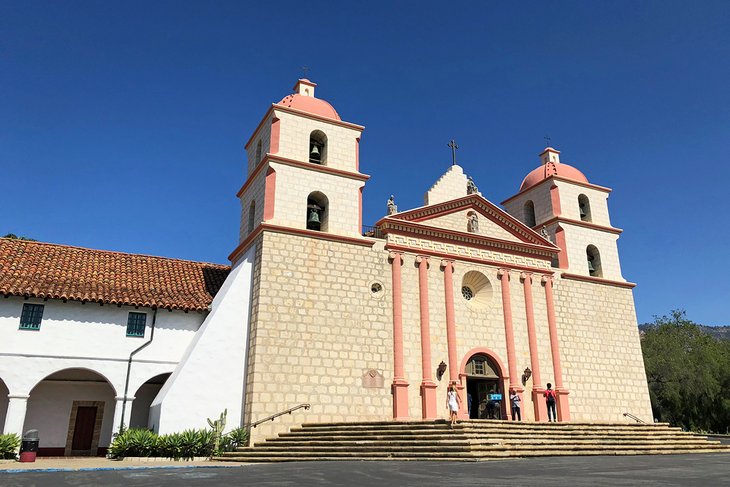 Called the "Queen of the Missions" for its graceful beauty and picturesque setting, Mission Santa Barbara is the city's most iconic landmark, and its style has strongly influenced the architecture of the city. This is the only California mission to remain with the Franciscans since its founding in 1786, and a community of Franciscan friars still lives here today.
The current church was completed in 1820 and was built by Chumash Indians under the leadership of Father Antonio Ripoli after an earthquake destroyed the original chapel and surrounding buildings in 1812. Highlights include its Roman temple facade, twin towers (which are unique among the missions), and colonial-era art and sculptures. Today, the mission serves as a parish church – an evocative place to attend a service.
Also within the complex is a museum with art pieces from the colonial period and many interesting artifacts. Especially worth seeing is the beautiful La Huerta Historical Garden, with mission-era plants such as citrus, grapes, pomegranates, and prickly pear, and the cemetery, where many prominent early Spaniards, as well as 4,000 Chumash Indians, found their last resting-place. You can tour the complex on your own or join a scheduled docent-led tour on certain days.
After visiting the mission, wander across the street and explore the ruins of the old mission aqueduct, built by the Chumash Indians in 1806, and if you have time, stop by the fragrant Mission Rose Garden, a lovely place for a picnic on a sunny day.
Address: 2201 Laguna Street, Santa Barbara, California Official site: http://www.santabarbaramission.org/
2 Stearns Wharf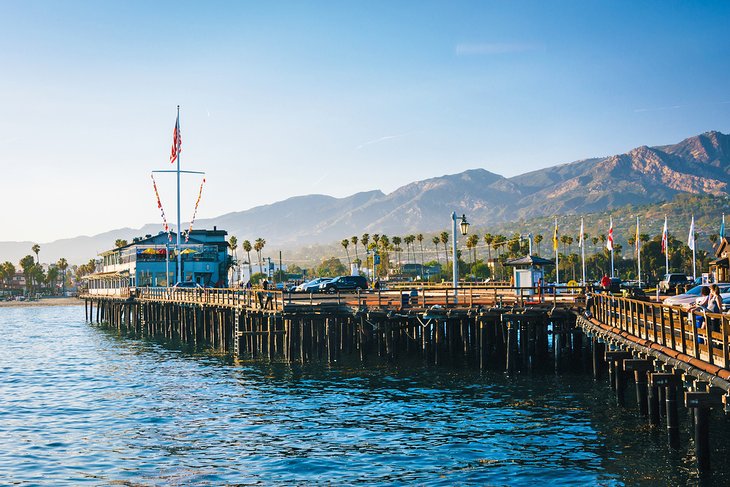 At the bottom of State Street, in downtown Santa Barbara, Stearns Wharf offers breathtaking views of the harbor and beaches, backed by the Santa Ynez Mountains. It was built in 1872 and was, at the time, the longest deep-water pier between Los Angeles and San Francisco. Today, this tourist magnet is home to specialty shops; restaurants; and the Sea Center, one of two sites of the Santa Barbara Museum of Natural History. This is a great place to stroll around with an ice-cream or enjoy a seafood lunch with ocean views. You can also visit the bait and tackle shop and cast a line off the end of the pier (look out for harbor seals). If you have kids, a fun way to arrive here is to catch the Lil' Toot water taxi from the Santa Barbara Harbor.
A great way to explore the area around Stearns Wharf is to rent a bike from one of the nearby rental shops and pedal along the beachfront bike paths that trace the coastline near the entry to the wharf. If you want to stay right near this buzzing tourist hub, some of Santa Barbara's best beach resorts overlook the shoreline on either side of the wharf. Official site: http://stearnswharf.org/
3 Santa Barbara County Courthouse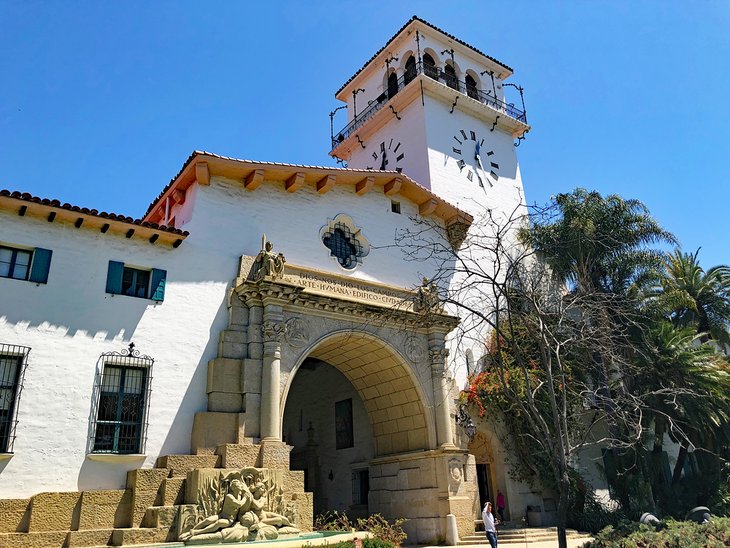 Completed in 1929, after an earthquake destroyed much of the city in 1925, this National (and State) Historic Landmark is one of the architectural jewels of the city. This downtown building occupies a full city block and is an example of Spanish-Colonial Revival style. As you wander the tiled corridors, notice the hand-painted ceilings; ornate tilework, some of which is from Tunisia and Spain; and wrought-iron chandeliers. Another highlight is the Mural Room, which tells the story of Santa Barbara's history. Free docent-guided tours are available at scheduled times.
Surrounding the courthouse is a beautiful sunken garden, with palms and plants from more than 25 different countries, where concerts, community events, and weddings are often staged. For gorgeous views over the red-tiled roofs of the city towards the ocean, take the elevator to the top of the 85-foot El Mirador clock tower, a popular place for wedding proposals.
Address: 1100 Anacapa Street, Santa Barbara, California Official site: http://www.sbcourts.org/gi/loc/sbcourthouse.shtm
4 Santa Barbara Zoo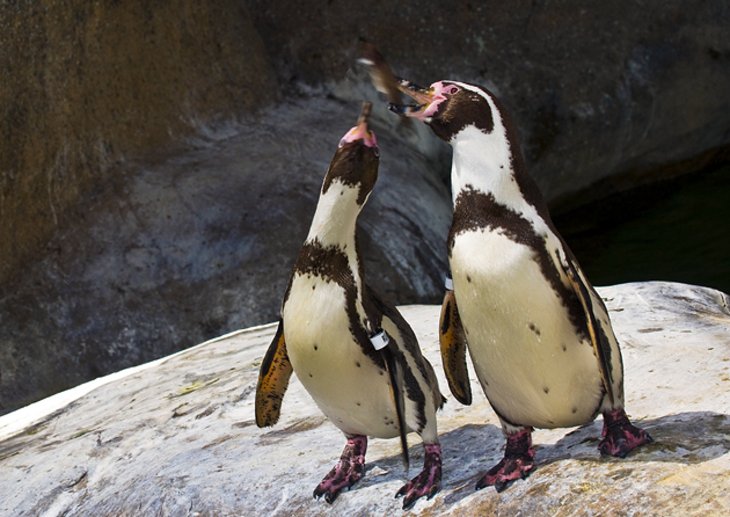 Encompassing more than 30 acres, Santa Barbara Zoo boasts a beautiful setting on a hilltop overlooking the Pacific Ocean. Its large, open spaces and lush gardens of palms and native plants impart the feel of a botanical garden, making it a lovely place to stroll around. For such a small zoo, you'll find an impressive variety of animals here. Highlights include the lions, snow leopards, Asian elephants, California condors, and western lowland gorilla exhibit. The zoo also offers fun interactive experiences such as the Barnyard and the giraffe feeding station. If you want a quick overview of the exhibits, hop aboard the zoo train, which travels around the exhibits and offers beautiful views along the way. Fun family events include Boo at the Zoo and Sleepover Safaris.
Address: 500 Ninos Drive, Santa Barbara, California Official site: http://www.sbzoo.org/
5 Whale Watching Tours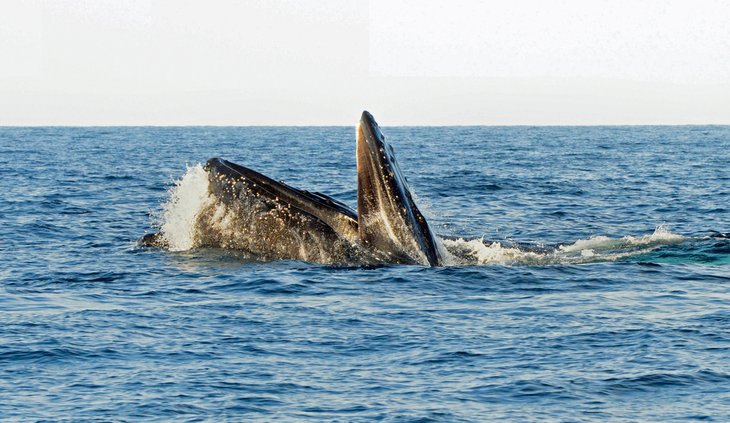 Few things are as exhilarating as watching a humpback whale breach from the ocean, and in Santa Barbara, you can join a whale-watching cruise for a front row seat to all the action. More than 27 species of whales and dolphins swim the waters of the Santa Barbara Channel, making it one of the best places in the country to view marine mammals in the wild. From May through November, humpback and blue whales feed here, and gray whales migrate along the Santa Barbara coast on their northern and southern migration. Even if you don't spot whales, you can usually see other wildlife such as dolphins, sea lions, and even orcas. Select cruises also offer a whale-watch guarantee in case you miss out on a sighting, allowing you to try again for free on another day during the season.
6 Santa Barbara Museum of Art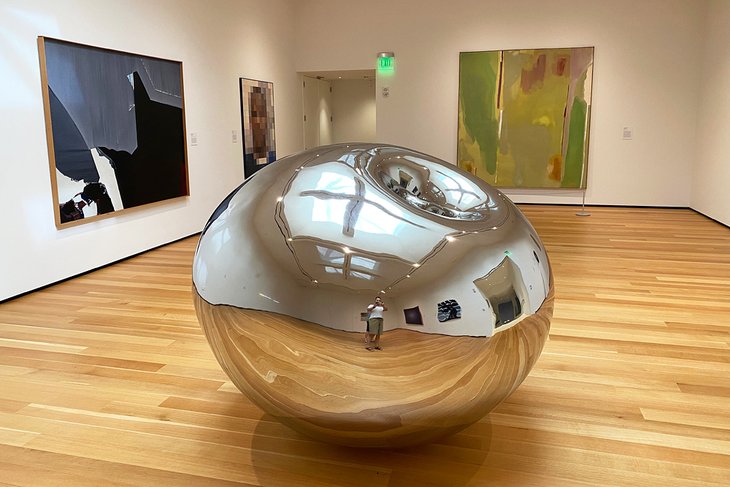 The Santa Barbara Museum of Art holds an impressive collection of art for such a small city, with more than 27,000 works spanning 5,000 years. The museum is particularly well-known for its collection of Claude Monet paintings, classical antiquities, 19th- and 20th-century American and European artworks, contemporary American painting, Asian art, and photography. As you enter, notice the Portrait of Mexico Today, 1932 mural, the only intact specimen in the United States by David Alfaro Siqueiros. The museum also hosts superb traveling exhibitions and features a children's gallery, with fun interactive displays. Also in the building is a museum store, café, and an extensive library.
Address: 1130 State Street, Santa Barbara, California Official site: https://www.sbma.net//
7 Santa Barbara Museum of Natural History and the Sea Center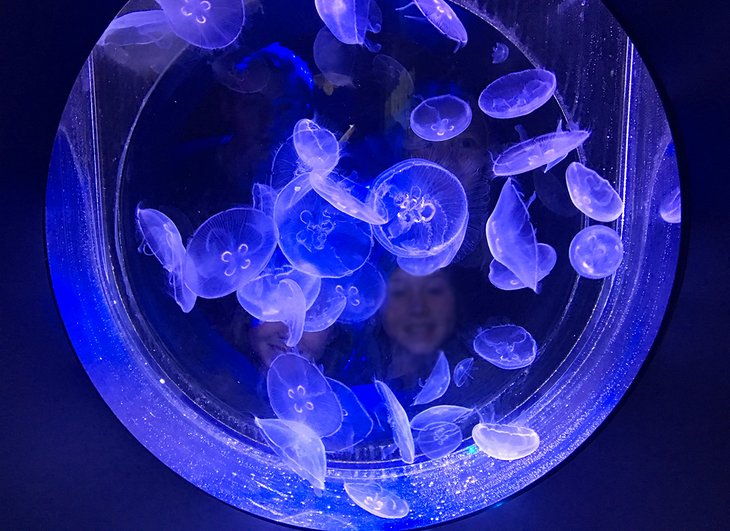 For more than a century, this excellent museum has featured fascinating displays on the region's natural history. Today, the museum encompasses two campuses: The Mission Canyon campus, nestled in beautiful oak woodland along Mission Creek, and the Sea Center on Stearns Wharf, which offers a window into the underwater world of the Santa Barbara Channel.
One of the first things you'll notice at the Mission Canyon campus is a life-size 72-foot blue whale skeleton at the entrance, a great exhibit to see before heading out on a whale watching trip. Other popular exhibits here include displays on the Chumash Indians; the mammal hall; the Gladwin Planetarium, with interactive exhibits on space exploration; and the lovely woodland nature trail along the creek. Special exhibitions complement the permanent collection. During summer, don't miss the Butterflies Alive! exhibit for up-close views of these winged beauties.
The Sea Center, with beautiful views over the water, is also wonderful for families with children. Here, you can touch a baby shark, feel the texture of a sea anemone tentacle, hold a hermit crab, and see alien-like jellyfish. Other interactive exhibits include hauling up a catch in the crabpot, studying animal behavior, and examining microscopic marine life.
Santa Barbara Museum of Natural History
Address: 2559 Puesta del Sol, Santa Barbara, California
Sea Center
Address: 211 Stearns Wharf, Santa Barbara, California
Official site: http://www.sbnature.org/
8 MOXI, The Wolf Museum of Exploration + Innovation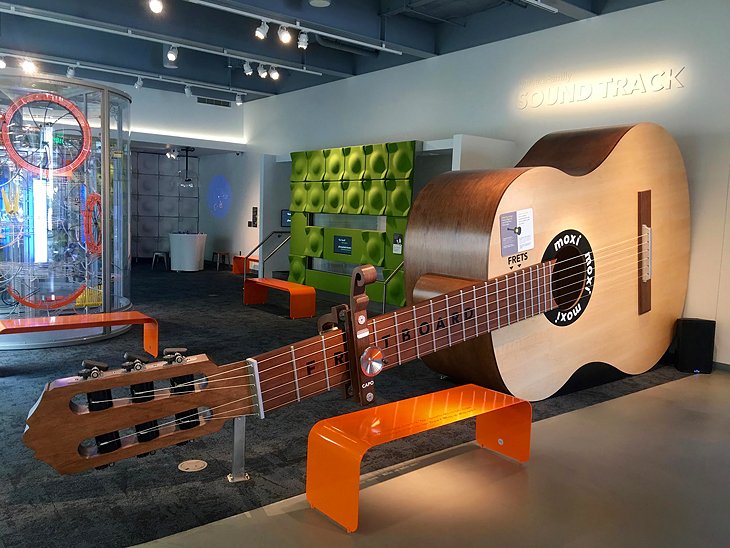 Ever wanted to create sound effects for a Hollywood movie or step inside a giant guitar? At MOXI, you can do all this and more. In a beautiful Spanish Colonial-style building with whimsical sea-themed accents, this brand new science and technology museum opened in early 2017 two blocks from the Santa Barbara waterfront. Fascinating hands-on indoor and outdoor exhibits on three floors are grouped into themes such as Light, Speed, Interactive Media, Fantastic Forces, and the Sky Garden. You can see how 3D printers create objects at the Innovation Workshop, build a race car and test it on the museum's tracks, or take a selfie and use it to create a customized mosaic to share with your friends. Top off your visit with spectacular views over Santa Barbara from the rooftop deck, where you can peer through a series of different scopes in the lookout tower. Summer camps, after-school classes, and adult theme nights add to all the fun.
Address: 125 State Street, Santa Barbara, California Official site: http://www.moxi.org/
9 Lotusland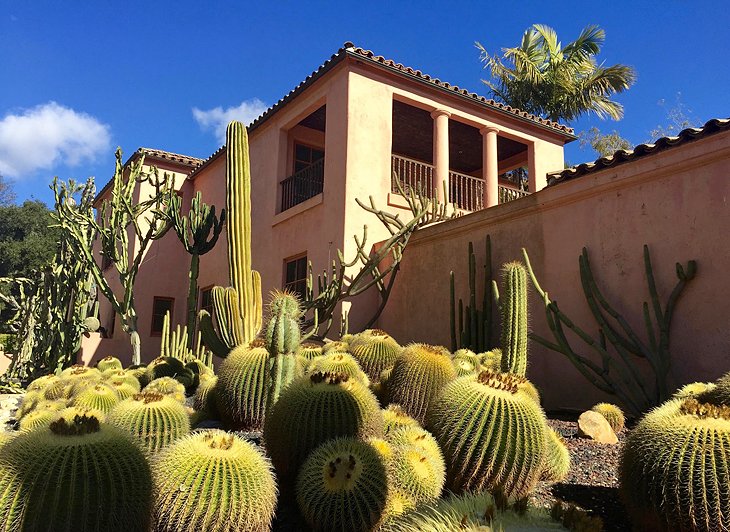 In the upscale enclave of Montecito, about ten minutes from downtown Santa Barbara, Lotusland has been called one of the most beautiful gardens in the world. Three different owners contributed to this stunning botanical collection, but it was the last and most flamboyant, the famous Polish opera singer Madame Ganna Walska, who transformed it over more than four decades into the dramatic display you see today. The gardens lie on Ganna Walska's estate, where she lived until she passed in 1984.
Madame Walska was one of the first garden designers to use mass plantings for dramatic emphasis. Entire gardens of sculptural agaves, contorted cactus, slender euphorbia, and spiky cycads impart a theatrical quality, and the garden's namesake lotus flowers flourish in the former swimming pool. Highlights are the Blue Garden; Palm Garden; Japanese Garden; and the Theatre Garden, with a collection of antique stone figures from France. Don't miss Madame's prized specimens, three extremely rare and gigantic cycads that are now extinct in the wild. Two-hour guided tours are offered Wednesday to Saturday from mid-February to mid-November. Advance reservations are essential.
Address: 695 Ashley Road, Santa Barbara, California Official site: http://www.lotusland.org/
10 Paseo Nuevo and State Street Shopping
Paseo Nuevo shopping mall La Citta Vita / photo modified Share:
Santa Barbara is a haven for shoppers, and the epicenter of all the action is State Street downtown. Here, you'll find Spanish-style Paseo Nuevo, a picturesque outdoor shopping mall punctuated by potted palms and fountains. Nordstrom anchors the mall, and a host of fabulous boutiques, big-name chain stores, and cafes line the paved walkways between. Paseo Nuevo is especially beautiful when it's decorated for the holidays. Even if you don't buy anything, it's still fun to stroll around here.
From Paseo Nuevo, you can also wander along State Street and browse other specialty shops, antique stores, and boutiques. Cafes and restaurants spill out onto the sidewalks here and make great people-watching spots. On Tuesday afternoons, State Street hosts the popular Santa Barbara Farmers Market, with fresh, locally grown produce.
Address: 651 Paseo Nuevo, Santa Barbara, California Official site: http://paseonuevoshopping.com/
11 Santa Barbara Maritime Museum and the Santa Barbara Harbor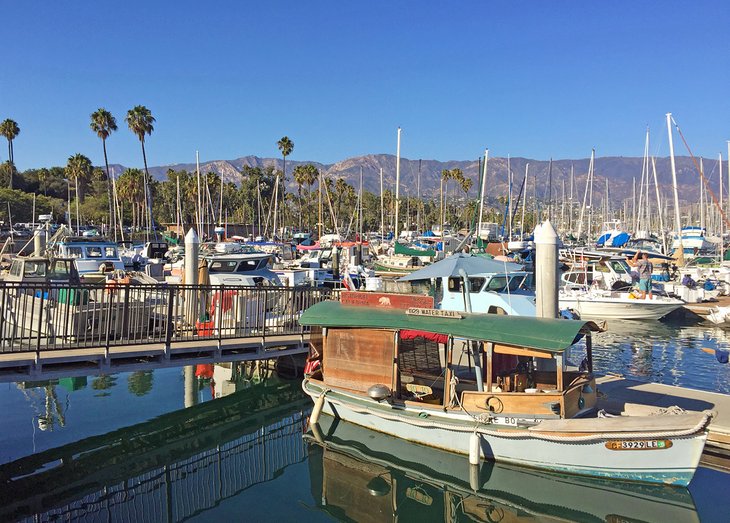 Santa Barbara Maritime Museum and the Santa Barbara Harbor dsearls / photo modified Share:
On the harborfront, the Santa Barbara Maritime Museum pays homage to the city's rich maritime history. The museum features fascinating exhibits on surfing, Channel Islands ranches, Chumash Indians, fishing and diving equipment, military history, model ships, antique instruments, and historical photos. Changing exhibits complement the collection, and the Munger Theater shows maritime-related movies and documentaries. This sea-themed museum is particularly fun for children, with scavenger hunts, a working periscope, and other interactive exhibits. Photographers can snap some beautiful photos of the harbor and city from the top-floor viewing deck.
After exploring the museum, the surrounding Santa Barbara Harbor is a lovely spot for a stroll, and you can wander along the breakwater and look for harbor seals. A couple of doors down from the museum, Brophy Bros. is a long-time favorite Santa Barbara restaurant, serving fresh seafood, with wonderful views of sailboats bristling in the harbor.
Address: 113 Harbor Way, Santa Barbara, California Official site: http://www.sbmm.org/
12 El Presidio de Santa Barbara State Historic Site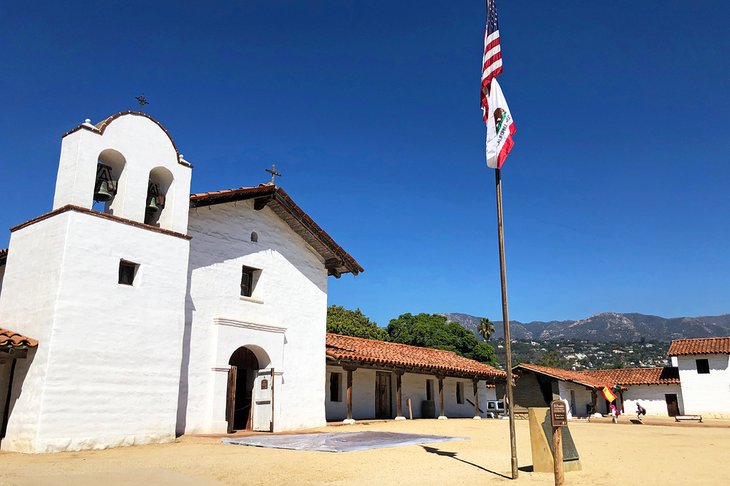 El Presidio de Santa Barbara State Historic Site D&S McSpadden / photo modified Share:
A striking slice of history in the middle of downtown Santa Barbara, El Presidio de Santa Barbara is a fortified military settlement (presidio) founded by the Spaniards in 1782. Two of the fort's original adobe buildings still stand -El Cuartel and the Cañedo Adobe. Tours start at the visitor center with exhibits on the history of the presidio and a brief orientation. From here, you can take a self-guided tour of the reconstructed Chapel, Comandancia, and Padre's Quarters, as well as reconstructions of rooms that once housed the Presidio's Lieutenant; a two-story observation tower; and a beautiful heritage garden, with plants from the era such as prickly pear and grapes. Behind the north wing are the 1940s Whittaker orchards and the archaeological site of the Presidio outer defense wall.
Address: 123 East Canon Perdido Street, Santa Barbara, California Official site: http://www.sbthp.org/presidio.htm
13 Santa Barbara Botanic Garden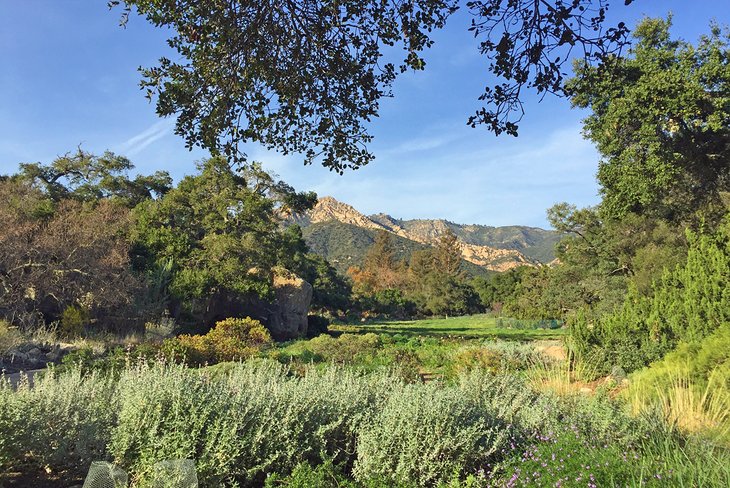 Santa Barbara Botanic Garden Share:
Set on 78 acres of natural woodland, with beautiful views of the mountains and ocean, the Santa Barbara Botanic Garden showcases more than 1,000 types of native California plants and trees. More than 5.5 miles of paths wind their way through the woodland, where highlights include a historic Mission Dam and aqueduct, built in 1807 to funnel water to the Santa Barbara Mission; a redwood grove; wildflower meadow; and a lovely Japanese teahouse and tea garden. A portion of the garden is designated a Santa Barbara County Historic Landmark, and you can take a guided tour or stroll the paths on your own. Afterwards, stop by the museum gift shop and nursery, where you can buy your own California native plants.
Address: 1212 Mission Canyon Road, Santa Barbara, California Official site: http://www.sbbg.org
Report this ad
14 El Paseo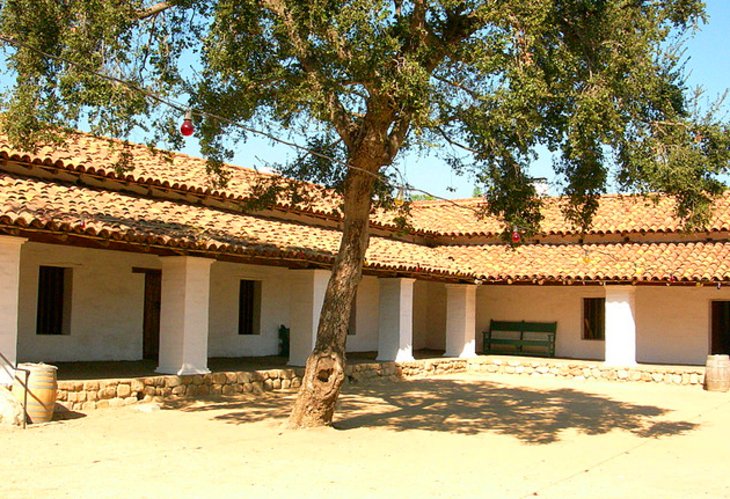 El Paseo savemejebus / photo modified Share:
El Paseo feels like a small Spanish village in the heart of downtown Santa Barbara. Steeped in Spanish Colonial Revival style, this evocative complex of shops, restaurants, and galleries was built around the historic Casa de la Guerra adobe in 1920.
Today, the adobe is listed on the National Register of Historic Places, and you can visit the small museum here. The adobe was built by the commander of El Presidio de Santa Barbara, José de la Guerra, between 1819 and 1828. The commander and his wife raised their family here, and over the years, it became the social, political, and cultural center of Santa Barbara. It remains an excellent example of an affluent, Spanish-Mexican-style home during the period. Guided tours are available with advance reservation.
El Paseo is also one of the venues for annual Old Spanish Days Festival events, and the courtyard is a lovely spot for lunch. Note that the main entrance is on the 800 block of State Street.
Address: 15 East De la Guerra Street, Santa Barbara, California